I test 50 to 60 vehicles each year. With nearly 300 car models available today, it's not difficult to find the right vehicle for your needs. But just because a vehicle sells well doesn't necessarily mean there aren't some other good options for your money.
There is a lot to like in top-selling models like the Ford F-150, Toyota Camry, and Honda Accord, to name just a few. Yet you may want to drive a vehicle that isn't commonly seen in your neighborhood. A vehicle that helps you stand out due to unique styling. Here are seven good cars that 2015 buyers largely ignored — at least in comparison to the top competitors in their categories.
Midsize Sedan: Buick Regal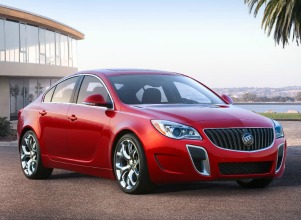 The Toyota Camry (2015 sales: 429,355) sold 22 times as many models as the Buick Regal (2015 sales: 19,504). In fact, every other midsize sedan, including the Kia Optima (2015 sales: 159,414), Volkswagen Passat (2015 sales: 78,207) and Subaru Legacy (2015 sales: 60,447) drove circles around the Regal's anemic sales. Now chew on this thought: are the Camry, Honda Accord and every other midsize sedan that much better than the Regal? I'll suggest the answer is a resounding, "Fat chance." Each time I test the Regal I'm surprised more people don't know about this comfortable and nearly luxurious midsize sedan. Are there better midsize sedans? Certainly, but with a starting price of $27,065, it's a more plush car than entry-level Accords and Camrys and more capable than you might expect if you select the 259 horsepower engine and all-wheel-drive transmission. This one's certainly worth a look.
Stylish Sedan: Volkswagen CC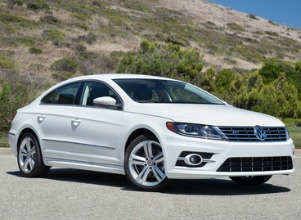 The CC is arguably Volkswagen's best looking car, yet fewer than 6,300 buyers selected this model last year. Think of it as a Volkswagen Passat that is all gussied-up for a night on the town. Sure, it costs more than the Passat that sells better (2015 sales: 78,207). But it looks a whole lot better. It drives better, too, and it was my second-favorite Vee-Dub I tested last year (the VW Golf earned the top prize). Older versions offered space for only four passengers, but the latest version allows room for five. Safety ratings from the Insurance Institute for Highway Safety (IIHS) are mostly "Good," though the CC earned a "Marginal" score in the small front overlap crash test. Consumer Reports expects the CC to perform "very good" in terms of reliability and the car makes the publication's "Recommended" list. I've known only a handful of CC owners but I've yet to meet one who wasn't an unabashed fan of this stylish sedan.
Affordable Sports Car: Scion FR-S/Subaru BRZ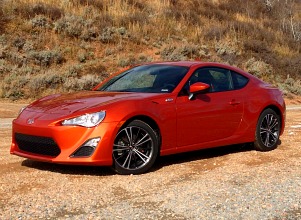 We now know that 2016 will be the last model year for Scion vehicles before they are absorbed into the Toyota stable. While a few Scion vehicles like the iQ, xB and tC won't make the transition, the Scion FR-S (likely rebadged as the Toyota FR-S) will remain available in 2017. The good news is that exposure as a Toyota car may finally give this affordable sports car the attention it deserves. Starting just over $27,000 and offering a 200-horsepower engine and 25 mpg in the city and 34 mpg on the highway, this car offers a ton of value and fun at a low price. Yet only 10,507 FR-S models left the lot last year. By comparison, the Ford Mustang moved more than 122,000 units while the always enjoyable Volkswagen GTI sold more than 23,669 vehicles — more than twice the volume of the Toyota FR-S. While Consumer Reports included the Scion FR-S on its list of "Recommended" vehicles, neither the Mustang nor Camaro earns the same endorsement.
There is also the Subaru BRZ to consider. A near mirror-image of the Scion FR-S but offered by Subaru in a joint venture with Toyota, the BRZ sells only half as many models as the FR-S, costs slightly less at $25,395 and is also "Recommended" by Consumer Reports.
Three-Row SUV: Ford Flex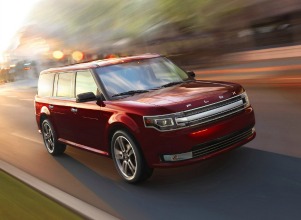 The Ford Flex is a car you either like or don't. There isn't much middle ground when it comes to this three-row family hauler. Originally released for the 2009 model year, auto writers and Flex owners were immediately smitten by this distinctively designed crossover that looked more like a wagon than an SUV. The standard 3.5-liter V6 engine makes 287 horsepower and powers most Flex models you see around town. Yet the engine we recommend is the twin-turbocharged 3.5-liter EcoBoost V6 that makes 365 horsepower and comes standard with all-wheel drive. It's shockingly fast and powerful for a crossover. You may even want to challenge a BMW 3-Series driver to a duel, though what you do on your own time and your own speed is your business. Rear legroom is exceptional and there is plenty of space to load gear when you're using only two rows. Consumer Reports once again included the Flex on its list of "Recommended" vehicles but it still sells in anemic numbers in comparison to the Ford Explorer (2015 sales: 249,251) with which the Flex (2015 sales: 19,570) shares a common platform.
Affordable Subcompact SUV: Nissan Juke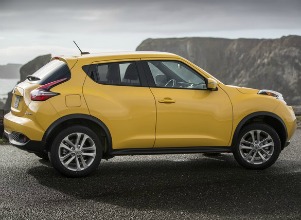 Small SUVs or "cute utes" continue to grow in popularity with vehicles like the Buick Encore (2015 sales: 67,549), Chevy Trax (2015 sales: 63,030) and the Jeep Renegade (2015 sales: 60,946) managing to move more than 60,000 models each. Meanwhile, sales of one of the earliest cute utes, the Nissan Juke, continue to dramatically lag its competitors. Perhaps it's the look of the Juke (2015 sales: 27,121) that is its greatest challenge. While I know a number of women who describe the Juke as "adorable" and "cute," I haven't met many men who share that sentiment and instead opt for the Encore, the Renegade, the Trax and the Honda HR-V (2015 sales: 41,969). Reliability and safety ratings are good, not great, but it's a decent car for the money, especially if you want a car that stands out in the crowd.
Luxury Wagon: Volvo V60/V60 Cross Country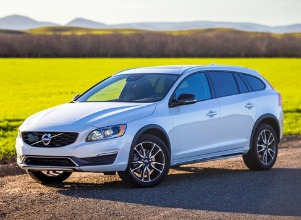 In 2015 I tested more than 60 vehicles of all sizes and styles. One of the most popular among my family was the Volvo V60 Cross Country. This slightly more rugged and raised version of the Volvo V60 wagon was remarkably well finished with a mix of soft leathers and wood grains and featured Volvo's exceptionally comfortable seats. The finish and the comfortable ride yet again reminded me and my wife why we'll choose wagons over sedans or crossover SUVs every time we're given the choice. But American drivers certainly don't agree since the V60 sold only 4,362 models in 2015 and the V60 Cross Country only 2,769 vehicles. Given Volvo's long-term focus on safety, it's no surprise that safety scores are outstanding with the V60 earning a "Top Safety Pick+" rating from the IIHS. Unfortunately, Consumer Reports anticipates the V60 wagon won't prove quite as dependable as some other travel companions since reliability is expected worse than average for the class. Regardless, for fans of wagons, test drive this stylish vehicle before it disappears due to public disinterest.