Staying within your budget isn't always easy, especially when you're in the new-car showroom and a hyped-up sales associate is showing you all kinds of cool "must-have" features for your next ride.
Take a breath. Gather your bearings. And remember the following advice: "You don't need all the gadgets and features on your new car."
Today I'm detailing five cool car features that aren't essential on your next ride. Plus, one feature I strongly endorse.
1. Built-in Navigation Systems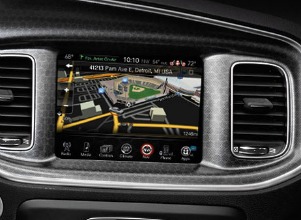 Let's start with one of the most commonly sold, yet uncommonly used new-car features. Vehicle navigation systems hold the promise that you'll never again get lost on a road trip or even in your neighborhood.
Generally, that's true. The navigation systems in today's vehicles work quite well. But there's a great chance you have an even better navigation system in your pocket or purse. According to an April 2015 Pew Research Center report, 64 percent of Americans own a smartphone.
Download Google Maps and you'll have a remarkably accurate and useful navigation tool that is also free.
Be aware, however, that in many new vehicles, you must purchase the navigation system in tandem with the upgraded sound system. That's a common approach by automakers to sell upgraded systems. If that's the case, and you love the improved sound of an upgraded audio system, then pull the trigger on the enhanced infotainment system and learn how to use that included navigation system. Just don't expect it to outperform a free mapping app on your phone.
2. Cooled or Ventilated Seats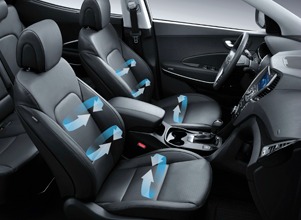 A vehicle with proper working ventilated/cooled seats is a slice of heaven on a blistering hot day. If you live in Florida or Arizona or Death Valley, California, you can easily justify the upgrade to seats that can help chill your bones.
But here's the rub: like heated seats, not all seats are equal. Some seats get too hot and some get too cold. The most effective heated and cooled seats are those that offer three settings (low, middle and high). They offer more control and allow you to get the temperature right.
While you may love the idea of cooled seats, think hard about how often you'll use or need them. Again, if you live in one of America's hottest areas, they may make perfect sense. The rest of us, however, can avoid the upgrade and save a few dollars.
3. Paddle Shifters
IHS Automotive reports that fewer than 10 percent of all vehicles sold in North America are available with a manual transmission. That number continues to shrink as automatic transmissions improve and drivers find fewer reasons to "row their own gears."
Today's automatic transmissions are engineering marvels. Vehicles that once had four or five gears like the Jeep Wrangler now have up to nine gears in the Jeep Cherokee.
Automakers include paddle shifters (shifters that sit behind the steering wheel) in many vehicles today to add an element of fun. In some vehicles, paddle shifters make sense the amazing BMW i8.
Other vehicles, well, they're not so essential the fun and impressive Honda Fit springs to mind).
Paddle shifters are often an upgrade in new vehicles and aren't required for daily driving enjoyment. Let your test drive at the dealership answer the question if paddle shifters are essential on your next ride.
4. Rear-Seat Entertainment Systems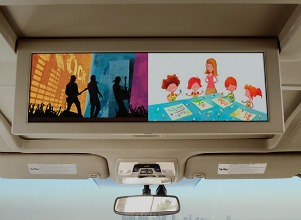 If you've ever taken a road trip with kids, you know that a rear entertainment system that lets passengers watch DVDs and play video games is a game-changer in ensuring a happy journey to your destination. The wireless headphones allow kids to hear "Bibbidi-Bobbidi-Boo" or "Let It Go" for the 10-millionth time while you can enjoy your own music or podcasts up front.
Everyone is happy.
Except kids are just as happy using an iPad full of their favorite games, movies and music. And that iPad is portable and works anywhere and anytime.
If you're looking for a place to shave hundreds or even thousands of dollars of your new vehicle price, the rear-entertainment system is a great place to start.
Just remember to take your iPads or other devices with you since an exposed tablet computer and Beats headphones in the backseat are a magnet for car thieves.
5. Massive Wheels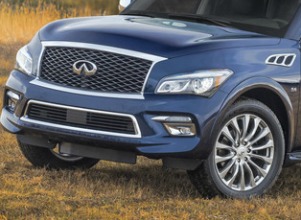 Car tires get bigger and bigger all the time. The Infiniti QX80 comes standard with 20-inch tires. But you can easily upgrade to 22-inch tires that are huge, yet look completely natural on this massive vehicle.
The thing you should know about these big wheels is that they cost more up front, they cost a lot more to replace and they actually create a rougher ride.
Sure, it makes no sense that larger wheels would create a choppier ride. But larger rims mean there is less tire and more wheel that doesn't soak up bumps as well as you might expect.
If your large-tire vehicle has all-wheel drive, plan to spend more money on tires than you've likely anticipated. That's because if even one tire has issues, you must replace all four tires at the same time to ensure your vehicle remains balanced. That's expensive.
The massive wheel look is great, but if you want to save money today — and down the road — stick with the smaller, standard-size wheels on your next vehicle.
One Feature You Need: Rearview Camera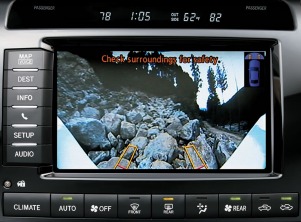 One of the most useful developments in today's vehicles is the rearview camera that presents a real-time image of what's directly behind you.
The Department of Transportation has mandated that all new vehicles under 10,000 pounds must include a backup camera by 2018 for all 2019 model-year vehicles.
Experts estimate that these rearview cameras will save between 58 and 69 lives each year.
Whether you're choosing a compact car or a big SUV, don't skimp on the rearview camera if it's available. It just may save a life and certainly makes reversing out of a parking lot or garage less stressful.